GBGB 2" Classic Jockstrap - Royal-blue and Black

GBGB 2" Classic Jockstrap
Color:

Royal-blue and Black


Product#:

36044


Manufacturer#:

GB2JKC


Material:

70% Polyester 15% Cotton 15% Rubber

Time to freshen up your top jockstrap drawer and we've got exactly what you need: Brand new to Jockstrap Central is GBGB which is a match made in heaven especially considering that GBGB stands for Good Boys Gone Bad. Whatever they're designing, guaranteed they'll be throwing a naughty curve ball at it.

The GBGB 2" Classic Sport Jockstrap is a very modern jock but borrows hugely from the all the classic sports jock of yesteryear. While a bit more streamlined than the GBGB 3" Classic Jockstrap, the 2 inch wide waistband is still pretty tough with the additional waistband binding strip which adds extra support.

But it's not just the waistband that has us excited, the pouch is made with a crazy hot ribbed knit fabric so you not only get the moisture wicking of a sports jock but the fabric is so soft right out of the box your boys are going to be loving you for it. It's also contoured to fit you just right plus the ribbing ends up cradling your junk for bulging perfection. As a final touch, GBGB has bordered the pouch with silicon tapes for a more secure fit and maximum support.

Finally, two one inch wide leg straps finish it all off.

As for fit: Although similar is style to the old Priape jockstraps (which we never brought in due to issues with their smaller pouches), these are a huge improvement with the better designed and larger pouch. For proof, just look at our model Romeo in the royal-blue jockstrap - he's a BIG boy and he fit perfectly and comfortably in it.
$20.00 USD
now only $12.00 USD
* this item is not eligible for further discount
SORRY, THIS ITEM IS OUT OF STOCK

YOU MAY ALSO LIKE THESE ITEMS: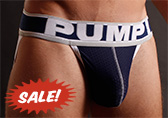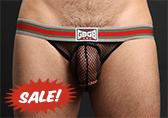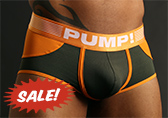 color:
Military-green and Orange