CUSTOMER CARE AT JOCKSTRAP CENTRAL
Help with Sizing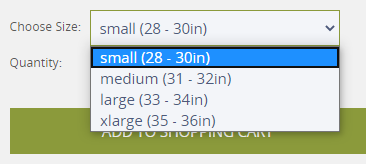 Each individual brand and often individual products within a brand may have their own sizing recommendations. To view the recommended sizing for each product, click on sizing drop down box (see diagram) on each product's product page.
Please be careful as there's no such thing as standard sizing, so one designer's small may be another one's medium. To ensure you get the correct size, use a soft tape measure and wrap once around your waist (or just below if the jock or underwear are a low cut) to obtain your actual waist size. Just because you wear a size 30 in a pair of jeans DOES NOT mean you wear a size 30 in a jockstrap or pair of underwear. Jeans are normally worn higher on your waist or hips, not to mention, many clothing designers implement vanity sizing to make people feel better about their waist size.
All our sizing is in imperial sizing (inches). See the chart below for imperial to metric conversions:
Size Conversion Chart
Imperial Size
Metric Size
28 Inches
71 Centimetre
30 Inches
76 Centimetre
32 Inches
81 Centimetre
34 Inches
86 Centimetre
36 Inches
91.5 Centimetre
38 Inches
96.5 Centimetre
40 Inches
101.5 Centimetre
42 Inches
106.5 Centimetre
44 Inches
112 Centimetre
46 Inches
117 Centimetre
48 Inches
122 Centimetre
50 Inches
127 Centimetre
Currency

You can choose to shop in either USD (US Dollars) or Canadian dollars. Currency defaults to USD but you can chance to CAD either on a product page or the shopping cart page using the change currency button.
For all other currencies, use Google's currency converter to get an estimate of the cost of our products in your currency. Credit card issuers and Paypal will automatically convert the currency you shop in on our website (USD or CAD) based on the exchange rate they are offering at the time of purchase.
Privacy Policy

We are committed to protecting your privacy. This means that we will not distribute, sell or rent your name, email or any personal information about you to third parties, unless required by law or legal process.
We DO NOT store credit card information to protect our customers.
We maintain an email newsletter list which is opt-in only and never sign anyone up to it without their consent. Customers who place orders with us are NOT automatically signed up.
Cookies: We utilize standard cookies stored on your browser to enhance your shopping experience. These cookies are harmless. Without cookies one cannot order from Jockstrap Central online. Cookies are alphanumeric identifiers transferred from our site to your computer so that we may identify you and retrieve shopping cart items. Without them, you wouldn't be able to make a purchase.
"Jockstrap Central" DOES NOT appear on the outside of our parcels and we DO NOT send you anything other than your orders.
For our complete privacy policy, please click this link.
Payment Methods

Payment with Jockstrap Central is safe and secure.
Jockstrap Central currently accepts Visa and MasterCard in both US Dollars and Canadian Dollars. We use an accredited credit card processor called Bambora who processes transactions for many large corporations and government entities. You can also pay using PayPal. Through Paypal, you can pay via a PayPal account or via most major Credit Cards even without a Paypal account.
Please note, for your safety, we DO NOT store credit card details on our servers.
Shipping and Delivery

Visit this page for all our shipping and delivery details, information, rates and services.
Sales Taxes and Duties

We do not charge sales tax for orders outside of Canada. We do, however charge the required domestic taxes for provinces within Canada.
Please note, we are not responsible for any Taxes, Duties or Tariffs that may be payable to your Government upon receipt of your order. However, due to the "USMCA" (United States, Mexico, Canada trade Agreement), there are no import duties or taxes on clothing to the U.S. for orders under $800.
Returns and Exchanges

Jockstrap Central wants you to be satisfied with all of the products we offer. We go to great lengths to describe our products, offer detailed photos and offer size and fit recommendations to help you make the right choices. With that said, if you are not completely satisfied with your purchase, you may return unworn merchandise with all tags attached for an exchange or credit within 30 days of purchase. We do not accept returns on items that are in unsatisfactory condition (soiled/worn), are missing original tags, or have been washed. Jockstrap Central actively monitors order activity for unusual order, payment or returns behavior. We reserve the right to refuse transactions and orders.
Before you return any products to us, please contact us at help@jockstrapcentral.com for return/exchange instructions and a return authorization code. If you have it, please include your order number.
Clearance items and final sale items are not returnable (unless defective). Items on clearance and Final sale are clearly marked on each product page.
Most returns are processed within 5 business days after we receive your parcel. We will notify you via e-mail once we have received and processed the returned item.
Canceled Orders

For orders that haven't shipped, simply let us know via email at help@jockstrapcentral.com that you would like to cancel your order. For credit card purchases, your credit card is first "authorized" but isn't actually charged until we process and ship your order. For Paypal orders, a refund will be issued.
For orders that have shipped, please follow the steps above for returns once you receive the shipment.
Discount Codes

We often offer exclusive discount codes through our the Jockstrap Central newsletter email list and social media.
When you place an order with us, you will also receive a postcard (with one of our hot guys on it) included with your parcel with a discount code on the back for use with a future purchase.
To use any discount code, simply add anything to your shopping cart at Jockstrap Central. On the shopping cart page, enter the discount code in the Coupon Code box then be sure to click the Add Coupon button to register the code. Anything in your shopping cart and anything you add afterward that isn't already on sale will be discounted. Items on sale and final clearance are not usually eligible for further discount and this is clearly stated on each product page.