MEYER JOCKSTRAPS
If you thought Bike Jockstraps were gone for good, think again. Meyer had been the European distributor for Bike making both the modern Bike jockstraps and the best selling and most famous, the Bike #10 Jockstrap. When Bike stopped producing their jockstraps in 2016, Meyer Marketing stepped up to the plate.

Meyer Marketing always had direct contact with the Bike Factory so the approached the factory to produce their own version of the #10 jockstrap using the same factory, same specifications, sizing and fabrics as the original Bike jockstraps you've loved forever.

Essentially, these are Bike jockstraps just with the Meyer logo.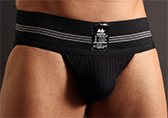 sizes available: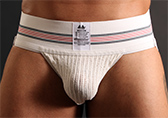 sizes available: