FETISH SHORTS
Men's Fetish Shorts are usually skin tight
made with spandex, pvc or leather often with enhancing features like contoured pouches, cod pieces like the Maskulo Fetish Shorts or functional zippers for easy access.

Some, like the jock short and jock trunk have an open back design bridging the jockstrap and short styles.

These edgy shorts are often black with highlight and detailing in traditional fetish colors.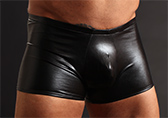 sizes available: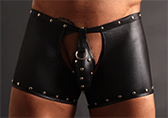 sizes available: