Sukrew Black UV Brief (Jockstrap) - Black

Sukrew Black UV Brief (Jockstrap)
Color:

Black


Product#:

36014


Manufacturer#:

SKR-BLK-001


Material:

95% Polyamide 5% Elastane

Sukrew, standing for Sexual Unity Krew has taken the UK by storm - and now we're proud to be the first to offer Sukrew this side of the Atlantic.

A little more subtle than the patterned Sukrew Britannia designs we initially launched with but equally as exciting with the full frontal front and wide jockstrap back. It's mostly solid black with a simple white logo .

This enhancing underwear is not just some underwear with a gimmick, it's quality all the way with it's durable fabrics, double stitching, impeccable craftsmanship and unique paneled construction that ensures this jock-brief fits like a glove.

This is Sukrew's take on a jockstrap with the outrageous full-frontal U front and extra thick back fabric straps. The first thing you'll notice is its front "U panel with a hole just big enough to give your entire package the freedom it needs (and put it all out on display). A panel of black fills in the U above your dick not only showcasing it but the reinforced U ensures it clings to your body and your boys are riding high.

Of course with the UV Brief, it's not only the front that gets the Sukrew treatment: The rest of the brief is made with the super soft silky slick and totally sensual feeling fabric that Sukrew is known for. Starting at the front, it travels toward the back, hugging the waistband and then swooping down around your ass cheeks and finally rejoining the base of the front pouch. Sukrew calls it a "V" cut but we call it a jock that perfectly compliments your best asset.

Finally, a full two inch wide super soft matching black waistband is finished off with a tasteful woven Sukrew label front and center.

$32.00 USD
now only $22.40 USD
* this item is not eligible for further discount
SORRY, THIS ITEM IS OUT OF STOCK
YOU MAY ALSO LIKE THESE ITEMS: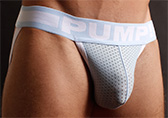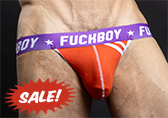 color:
Boy (purple/orange)