Meyer Original Bike Performance 2 Inch Jockstrap - Black

Meyer Original Bike Performance 2 Inch Jockstrap
Color:

Black


Product#:

08006


Manufacturer#:

BASP 17


Material:

Nylon/Rubber/Cotton

They're back, just under a different name. It's the Bike Performance 2 Inch Jockstrap now by Meyer.

Here's the scoop: Meyer was the licensed distributor for Bike in Europe and dealt with the Bike Factory directly, so when Bike stopped producing their jockstraps, Mayer approached the Bike factory to start producing Bike jockstraps for them using the exact same fabric, sizing and specs, the only thing different is the name. Size, style, fit, fabric and even the label are identical except where BIKE was is now a MM (for Meyer Marketing).


Here's our description for the original Bike Performance 2 Inch Jock: The ultimate athletic supporter is now even better. Bike redesigned their classic to give you even more support and comfort. Improving on the waistband design, it now sports a repeating logo and is made of a softer "plush" like fabric in grey. Still as rugged as ever for sports but now comfortable enough to wear as regular underwear! This is their 2 inch wide waistband version of their famous athletic supporter.

Of course, Bike is no longer so these classics are being brought to you by Meyer. Send them a thank you card!



$16.95 USD
now only $14.41 USD
* this item is not eligible for further discount
YOU MAY ALSO LIKE THESE ITEMS: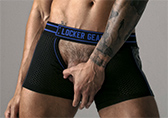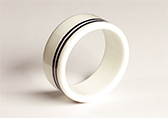 color:
Edge White Striper