Alpha Charlie Neon Jockstrap - Bright-blue

Alpha Charlie Neon Jockstrap
Color:

Bright-blue


Product#:

39009


Manufacturer#:

ACNE-BU


Material:

87% Nylon 13% Spandex

No camouflage or blending in here, be sure you're seen by slipping on one of our latest jockstraps from Alpha Charlie. The Neon Jock will ensure you're the target of all affection - whether it's in the backroom on the dance floor of your favorite underwear party. It comes in very bright blue, lime-green, hot-pink and lemon-yellow.

With a pouch made of a very modern mesh fabric. The nylon content means it's luxuriously soft and the considerable Spandex content gives it a decent amount of stretch and shape retention and does an excellent job of molding to your basket and showing it off to perfection.

As for the waistband, comfort is guaranteed. The 2 inch wide elastic is ultra-soft and plushed with a good amount of stretch. Three simple thin black stripes around around the waistband with an Alpha Charlie logo front and center.

Finally, leg straps made with the same elastic are 3/4 of an inch wide.





YOU MAY ALSO LIKE THESE ITEMS: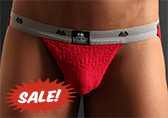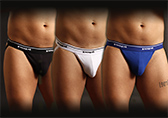 color:
black/white/royal-blue