Sukrew Full Jock - Black and Red

Color:

Black and Red


Product#:

36026


Manufacturer#:

SFJ/PE/020/1002


Material:



With Sukrew's new jockstrap, X marks the spot or in this case draws all eyes to the prize - that being the full-on ergonomic extreme 3d pouch which will have you hanging naturally and comfortable yet bulging to perfection. Here's more details:

It's all about the pouch: The first thing you'll notice (and so will everyone else) is the super 3D contoured pouch in black with six strategic pleats that's cut high sitting up under the balls pushing everything up and out while still allowing you to hang and swing. If that weren't enough, side panels in red highlight the bulge.

The X is created with the full 2 inch wide waistband and leg straps that wrap around front and run along top of the pouch both in black and is visually awesome.

This enhancing underwear is not just some underwear with a gimmick, it's quality all the way with it's durable yet super soft fabrics, ultra-plush waistband and leg straps, impeccable craftsmanship and unique paneled construction that ensure this jock fits you like a glove.

Don't forget to check out the Sukrew U Jock for this same design but with full-frontal exposure.
$29.95 USD
now only $20.97 USD
* this item is not eligible for further discount
SORRY, THIS ITEM IS OUT OF STOCK
YOU MAY ALSO LIKE THESE ITEMS: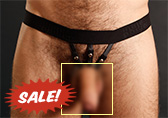 color:
Strappy Ring Thong