Bruto Bear Gear Lux Jockstrap - White (microfiber)

Bruto Bear Gear Lux Jockstrap
Color:

White (microfiber)


Product#:

22241


Manufacturer#:

EST-BRT-J21


Material:

83% Polyester - 17% Spandex

There's nothing hotter than a jockstrapped bear - and even more so when the jock is by Bruto. Of course, not just the for the bear but otters too and everything in between.

Bruto is back with two new jockstrap styles utilizing their bold Bear Gear waistband. One with a mesh pouch and the other with a slick and sleek and luxuriously-soft microfiber pouch.

The waistband of the Bruto Bear Gear Mesh Jock is a full 3 inches wide and super sturdy and when you touch it, you know this is quality elastic. But the best part is the traditional sports jock striping is in the colors of the bear flag. But that's not all, front and center is a traditional sports jock patch but this one has BRUTO FETISHWEAR, Bear Mating Area, a graphic paw and Bruto's iconic bear logo. Check out our photos for a closeup of this awesome logo patch.

Sleek, slick and ultra-soft: The pouch is made of a stunning microfiber with a welcome four-way stretch. It's also thin enough to still show off what you're packing. And if the fabric itself wasn't enough, Bruto's piping detailing adds a stylish touch while emphasizing your shaft.

Finally, one inch wide comfort leg straps finish it all off.

Be sure to also check out the Bruto Bear Gear Mesh Jockstrap for a more daring look.

Hint: Get this for the next White Party!
$26.00 USD
now only $22.10 USD
* this item is not eligible for further discount
YOU MAY ALSO LIKE THESE ITEMS: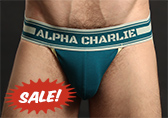 color:
Dark-teal and Yellow