Bruto Sport Mesh Jockstrap - Black

Bruto Sport Mesh Jockstrap
Color:

Black


Product#:

22212


Manufacturer#:

D-EST-BRT-J08


Material:

83% Polyester - 17% Spandex

What a Mesh!

The hot weather is here so be sure to snag a jockstrap (thong or brief) from Bruto with built-in air conditioning. While onlookers will be getting all hot and bothered with the view of your boys being partially exposed, you'll be nice a cool with the wind tickling your balls through mesh fabric. Here's the details.

The Bruto Sport Mesh Jockstrap is all about the tease. The contoured pouch is made from a deliciously soft sports mesh which is partially see-through. The basic rule of thumb is light colored skin shows more with a black pouch and dark colored skin shows more through a white pouch, so choose the color based on your confidence!

Between the contouring of the pouch and the decent amount of four-way stretch, this pouch should accommodate most average guys comfortably. If you've got more going on down there then you'll be packing it in - but that in itself could be fun and the bulging, impressive.

The waistband is almost two-and-a-half inches wide with the iconic Bruto Bear logo front and center. In back, find two one inch wide leg straps.

Like all Bruto jocks and underwear, they are all-inclusive coming in sizes Small all the way up to XXlarge (28 inch waist to 46 inch waist)!

Be sure to check out the Bruto Sports Mesh Brief as well.



Other Styles Available:
White
$23.00 USD
now only $16.10 USD
* this item is not eligible for further discount
* this item is on clearance and won't be restocked.
YOU MAY ALSO LIKE THESE ITEMS: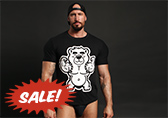 color:
Black (Muscle Bear)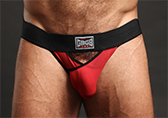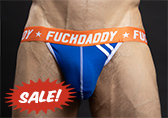 color:
Daddy (orange/blue)