Male Power Gemini Reversible Harness - Gemini

Male Power Gemini Reversible Harness
Color:

Gemini


Product#:

19104


Manufacturer#:

PAK- 591-266


Material:

100% PU Leather

(Harness and Jock-thong sold separately!)

Male Power is back with a devilishly fun collection of entry-level fetish gear that won't break the bank. The Fetish Collection consists of a gladiator kilt with a surprise, two jock/thong chastity devices, a couple of harnesses and a new take on their best-selling Moonshine jockstrap.

The Gemini Harness is a versatile stand alone harness designed to showcase your upper body. With a series of six soft Nubuck Split leather straps and metal rings that when combined frame your pecs in front and your shoulder blades in back. The four sturdy masculine metal rings connect everything up.

Fully sizeable. Each of the five straps have buckles and multiple sizing holes to ensure the perfect fit.

Taurus is made with soft Nubuck split leather with polyurethane coating for strength, durability and comfort. While not as high-end as true leather, it's less expensive, durable and unlike leather can we cleaned and wiped off simply with a wet cloth.

*Although as Male Power describes it, it's technically reversible, we prefer one side over the other. We feel the buckles look best in back.

In our photos, we've teamed this harness up with the Male Power Taurus Chastity Thong (sold separately). You can also wear it with the Male Power Taurus Chastity Thong or wear it with your favorite pair of jeans.
YOU MAY ALSO LIKE THESE ITEMS: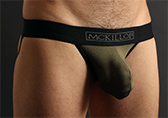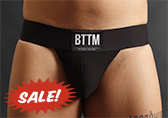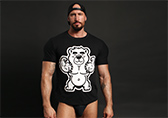 color:
Black (Muscle Bear)