Male Power Clip Tease Moonshine Mini Short - Mini Short

Male Power Clip Tease Moonshine Mini Short
Color:

Mini Short


Product#:

19071


Manufacturer#:

135-239


Material:

93% Nylon 7% Spandex

Whether it's the Male Power Clip Tease Moonshine Jock, Thong or Mini Short, it's all about the reveal. Whether you're a professional stripper or bedroom exhibitionist with an Xtube channel, strip-tease underwear doesn't get any better than this.

Sure, the striped sheer and solid fabric is sexy enough, but the real attraction is the sheer pouch which cradles your junk sticking out of the slit in the inner fabric. The pouch is suspended by two metal clips, so a quick flick of the wrist to unclip and you're fully exposed. In black with teal-blue piping detailing.

Here's more details of the Male Power Clip Tease Moonshine Jock:

Besides the crazy hot pouch design described above, the sheer and solid striped fabric front is as the title says - a mini-short. It's a trunk cut a little bit high in the leg for a sexier look. In the rear, find a unique looking trunk with horizontal sheer and solid stripes with a stunning effect that still allows a pretty revealing view.

It's all finished off with a super-soft one inch wide black waistband with MALE POWER front and center in teal-blue.


$23.90 USD
now only $9.56 USD
* this item is not eligible for further discount
SORRY, THIS ITEM IS OUT OF STOCK

YOU MAY ALSO LIKE THESE ITEMS: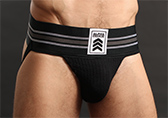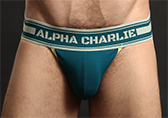 color:
Dark-teal and Yellow