Male Power Clip Tease Moonshine Jockstrap - Moonshine

Male Power Clip Tease Moonshine Jockstrap
Color:

Moonshine


Product#:

19069


Manufacturer#:

307-239


Material:

93% Nylon 7% Spandex

Whether it's the Male Power Clip Tease Moonshine Jock, Thong or Mini Short, it's all about the reveal. Whether you're a professional stripper or bedroom exhibitionist with an Xtube channel, strip-tease underwear doesn't get any better than this.

Sure, the striped sheer and solid fabric is sexy enough, but the real attraction is the sheer pouch which cradles your junk sticking out of the slit in the inner fabric. The pouch is suspended by two metal clips, so a quick flick of the wrist to unclip and you're fully exposed. In black with teal-blue piping detailing.

Here's more details of the Male Power Clip Tease Moonshine Jock:

It's hard to believe Male Power's original and best selling Moonshine Jockstrap was introduced almost 10 years ago and it's still today one of our best selling erotic jocks. With the new Clip Tease version, Male Power has taken erotic to the extreme. Not only do you have the above mentioned see-through clip-off pouch, unique striped see-through sheer and solid fabric, but the "moonshine" rear is spectacular: It's a jock-brief back with a stunning blue piping to frame and showcase your ass.

It's all finished off with a super-soft one inch wide black waistband with MALE POWER front and center in teal-blue.
SORRY, THIS ITEM IS OUT OF STOCK
YOU MAY ALSO LIKE THESE ITEMS: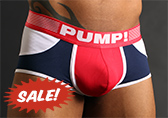 color:
Red Navy-blue and White