JC Athletic Classic Swimmer Jockstrap - Black

JC Athletic Classic Swimmer Jockstrap
Color:

Black


Product#:

17102


Manufacturer#:

JCA-S1


Material:

69% Polyester 31% Rubber

Your new old faithful is here! With Bike, Activeman and Flarico all ceasing production of their jockstraps this past year it was time to take matters into our own hands and produce what we consider the ultimate classic sports jock. JC Athletic Classic Jocks are the culmination of our 12 years of experience in the jockstrap business and they're exclusive to Jockstrap Central. Available in either a 3 inch jockstrap or swimmer jockstrap.

They're exactly what you want in your sports jock: They are simple, functional, comfortable, masculine and even understated with a nod to the classic sports jocks of yesteryear. Here's the details:

The JC Athletic Swimmer Jockstrap has a moisture wicking woven pouch. With the soft fabric, a hint of rubber for stretch and shape retention and the ergonomic contouring of the pouch, we found the perfect balance between comfort and support.

The narrow waistband is only 1 1/8 inches wide with a fine horizontal elastic ribbing up front but with an inside plushed band so it's soft against your skin. With our nod to the classics you'll find a subtle JC Athletic logo front and center and care instruction label on the back.

Lastly, two 1 inch elastic leg straps will keep everything in place.
Other Colors Available:
White
YOU MAY ALSO LIKE THESE ITEMS: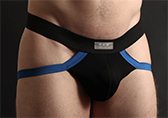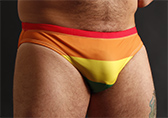 color:
Pride Flag (rainbow)