Papi Cotton Stretch Jockstrap 3 Pack - red/blue/black

Papi Cotton Stretch Jockstrap 3 Pack
Color:

red/blue/black


Product#:

13022


Manufacturer#:

705910-999


Material:

100% Cotton

Papi knew guys were going to love this ultra-comfortable and stylish sport meets fashion jock so much that they packaged them in threes - but for the price of one. Considering you can wear this to the gym, to the office or on a date, you're going to need three just to insure there's always one clean.

Here's the details: A super soft cotton pouch with center seam for support and help provide a natural contour. A matching cushioned 1 1/4 inch elastic waistband white woven logo. Finally, 3/4 inch elastic legstraps provide the support to keep things in place.

This 3 pack contains a red, blue and black cotton jockstrap.

If you're looking for a jock (or three) to become your old standbys, this is it.
YOU MAY ALSO LIKE THESE ITEMS: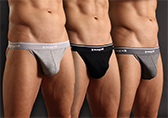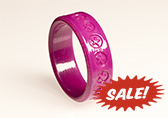 color:
Reflex Violaceous Hardstar