PUMP! Play Jockstrap - Fuchsia

Color:

Fuchsia


Product#:

09078


Manufacturer#:

15054


Material:

Pouch: 78% Nylon 22% Elastane Lining: 94% Cotton 6% Elastane

All work and no play is NO fun but no work and all play in a Play Jockstrap from PUMP! is ALL fun. After PUMP! went all dark and serious with their last collection, with PLAY, they're back on form with a new bold, colorful and sexy jockstrap design that will definitely get you noticed.

The pouch is pretty straight-forward. With a solid black micro-mesh contoured cup lined with blue stretch cotton, with a vertical line of contrast stitching down the center in fuschia.

While the pouch is certainly nice and definitely comfy, it's the waistband and leg straps that where's it at with PLAY:

The waistband is a perfect one-and-three-quarters inches wide made with a soft sheen technique and high-def fiber colors. They're practically iridescent. With a large PUMP! logo front and center and smaller logo in back both in blue edged in fuschia but the most striking feature is the horizontal band running throughout the waistband in a stunning color gradient going from black to fuschia.

Even the leg straps get the PUMP! touch. They're triple band 3 color elastics in black, blue and fuschia. They're comfortable yet sturdy and provide the ultimate support.

Play is definitely one of their best looking jockstraps yet!



YOU MAY ALSO LIKE THESE ITEMS: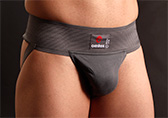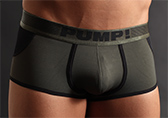 color:
Military-green and Black