PUMP! Switch Jockstrap - Black

Color:

Black


Product#:

09075


Manufacturer#:

15046


Material:

97% Nylon 3% Spandex

The Switch Collection is a bit of a departure for PUMP!. Known for their big bold colors, Switch is PUMP! gone all sophisticated. It's like someone invited them to a black tie event and this is the outfit they came up with.

Don't get me wrong, the PUMP! Switch Jockstrap is still quality all the way, in fact the level of details, despite appearing relatively simple is actually quite impressive.

First, the pouch: It's a webbed-mesh cup lined with cotton so there's no discomfort or chafing going on with your boys. The waist band: it's a full 2 inches wide, has an impressively high thread count, it's ultra-soft with a stunning embossed chrome threaded PUMP! logo so it's got a bit of sparkle thrown in.

Even the leg straps get an upgrade! It's a triple band elastic. It's a single comfort elastic with more elastic edging the straps - you still get superior comfort but you get more support with some pretty stylin' detailing.

Be sure to also check out the PUMP! Switch Access Trunk.
$31.00 USD
now only $23.25 USD
* this item is not eligible for further discount
YOU MAY ALSO LIKE THESE ITEMS: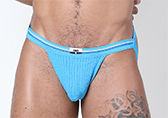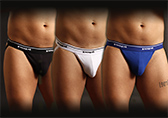 color:
black/white/royal-blue