Jockfighters Socks - White

Color:

White


Product#:

02103


Manufacturer#:

05JF01 06


Material:

95% Cotton 5% Elastane

Just arrived and exclusively available in North America at Jockstrap Central, we've just launched one of the hottest new hyper-masculine fetish collections straight from Italy: Get ready for a fight with Jockfighters.

Top to bottom, Jockfighters has you covered with socks to match their fetish jocks and underwear. These make-a-statement tubular socks are soft and comfortable with extra padding in the foot and ribbing in the leg and are versatile with traditional sports striping and the iconic Jockfighters logo at the top and J-O-C-K-F-I-G-H-T-E-R-S at the bottom. Worn with your new Jockfighters jock sticking out of your favorite pair of high-tops or combat boots, the look is complete.

Be sure to pick up the matching white Jockfighters Jockstrap or the white Jockfighters Slashed Brief.

Please note the length of the black or white socks are slightly shorter than the red or yellow socks.

$25.00 USD
now only $7.50 USD
* this item is not eligible for further discount
SORRY, THIS ITEM IS OUT OF STOCK
YOU MAY ALSO LIKE THESE ITEMS: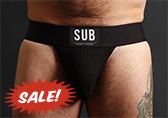 color:
SUBMISSIVE (black)