Russell Hardwear Bisexual Pride - Bisexual Pride

Russell Hardwear Bisexual Pride
Color:

Bisexual Pride


Product#:

01214


Manufacturer#:

PRID-BISX


Material:

100% Acrylonitrile Butadiene Styrene

This limited edition collection of cock rings are exclusive to Jockstrap Central.

Our latest collection of cock rings from Russell Hardwear are all about being Out and Proud. Whether you identify as LGBT, a Bear, Trans, Bisexual, Non-binary or are simply into Leather then there's a cock ring for you in this collection.

The Russell Hardwear Bisexual Pride Cock Ring is a 6/8 inch wide with a series of indented rings in the colors of the Bisexual Pride Flag.

Keep in mind, these cock rings are 3D printed and individually made - imperfections make them perfect. They're as wonderful and unique as you.

Here's more details:

Most of you know our buddy Ryan Russell as a porn star and long time model of Jockstrap Central. Well now he's off on another tangent, producing his totally awesome Russell Hardwear Cock Rings. Let's let Ryan tell you what they're all about:

"With over a decade on and off camera, I know what it takes to get a dick lookin' its best! After years on the lookout for a perfect fitting cock ring, I finally decided to make my own. I have big ones, small ones and everything in between. But like Willy Wonka, I've been tinkering with perfection and finally cracked the code: Tailor-made and bespoke cockrings, for you and only you. Every one is (almost) an original."

They're all made in Ryan's 3D printer so the colors are vibrant, designs unique so they'll definitely get you noticed - especially when your dick is rock hard.

They're made from 100% Acrylonitrile Butadiene Styrene, or ABS. As a finishing touch, the rings are hand sanded to ensure they're as smooth as Ryan's bottom (trust me, that's pretty damn smooth!)

Sizing Guide: These are solid plastic cock rings so there's no stretch or give to them. For sizing, treat them as you would a metal cock ring. To figure out your size (circumference): use a fabric tape measure to measure around the base of your cock and balls, don't make it tight. If you don't have a fabric tape measure, use a string to wrap around the base of your cock (behind your balls) then lie string flat against a flat ruler to determine the circumference.


small: Diameter: 1.75 inches
Circumference: 5.50 inches
medium: Diameter: 2 inches
Circumference: 6.28 inches
large: Diameter: 2.25 inches
Circumference: 7.06 inches

*If you need a larger size, we can have one custom made for you. Email Us for details.

Please note, because of the intimate nature

WE CAN'T ACCEPT RETURNS OR EXCHANGES ON COCK RINGS.
$22.00 USD
now only $16.50 USD
* this item is not eligible for further discount
YOU MAY ALSO LIKE THESE ITEMS: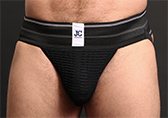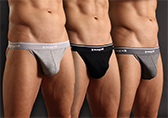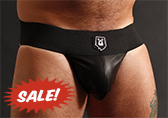 color:
Leatherette (black)