McKillop Tackle Ultra Mesh Shorts - Black

McKillop Tackle Ultra Mesh Shorts
Color:

Black


Product#:

38056


Manufacturer#:

VAUS-BK1


Material:

82% Nylon 18% Lycra

So, technically these are lounge shorts considering the comfort and the ultra light-weight fabric. BUT, they're also some of the sexiest erotic shorts we've seen considering they're body-hugging, skin-tight and did we mention completely sheer and see-through? We're pretty sure this is where McKillop got the name as everyone will be able to see your tackle when you're wearing them.

Although McKillop calls them shorts they also work as sexy underwear.

If you've been paying attention you may think these are similar to the McKillop Ultra Mesh Shade Shorts we launched last month and you would be right. The big difference is the Shade shorts are more lounge than erotic and these Tackle shorts are more erotic than lounge although trust us, you'll be totally comfortable just hanging out in these binge watching the latest Netflix series. The only problem is: if you were hanging out with a buddy you'd end up ignoring the tv for some binge sex.

Made with a luxurious 4-way stretch mesh that's also VERY see-through - and more so where the skin hits the fabric (which is basically everywhere as they are designed to be fitted with no pouch.Designed with a center seam up front, stylish outer side seams but our favorite is the rear center seam that really shows off your bubble butt.

With a 1.5 inch wide waistband and tidy hemmed legs.

Here's the available colors (In order of see-throughness): Black, Army-green, Royal-blue, Red and White.
SORRY, THIS ITEM IS OUT OF STOCK
YOU MAY ALSO LIKE THESE ITEMS: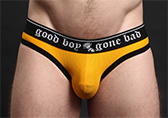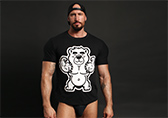 color:
Black (Muscle Bear)