GBGB Tummy Control Jockstrap - Blue

GBGB Tummy Control Jockstrap
Color:

Blue


Product#:

36075


Manufacturer#:

GBGBNEO-002


Material:

70% Neoprene, 15% Cotton, 10% Polyester, 5% Rubber

One of our most popular products was the Flarico 6 Inch Waistband Duribilknit Athletic Supporter, an athletic supporter with a full 6 inch wide sturdy waistband with extra support sticks to flatten the tummy. When Flarico closed up shop in 2016 we went looking for a replacement - and boy did we find one! This control jock is far superior in design, quality, function, comfort and looks.

Welcome to the GBGB Tummy Control Jockstrap.

For guys who want both genital and abdomen support then this jockstrap is for you. It has GBGB's signature soft ribbed knit pouch they use in all their sports jocks with one inch wide comfort leg straps. But, the waistband design is where it's at: It's a full 8 inches wide neoprene waistband so you know it's super-soft against your skin but it's super-tough too. The best part is, there's a large patch of velcro on one end of the waistband so you can wrap the waistband around your waist and attach the end wherever you want - making the waistband as tight (or loose) as you want, depending on how much tummy control you desire. The blue waistband is edged with black piping for a fully finished look.

Seriously, this design is well-made, sturdy, comfortable and exactly what you need to look your best under your clothing.

Sizing Guide: Unlike a regular jockstrap, the waistband doesn't stretch, which is the whole point. It's to wear tight around your waist to flatten the tummy.



YOU MAY ALSO LIKE THESE ITEMS: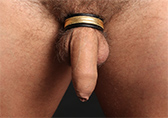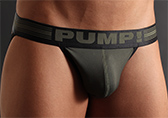 color:
Military-green and Black