GBGB Balzy Suspensory Jockstrap - Black

GBGB Balzy Suspensory Jockstrap
Color:

Black


Product#:

36059


Manufacturer#:

GBLZY000


Material:

70% Polyester 15% Cotton 15% Rubber

By definition, a "suspensory" is a fabric pouch for supporting the scrotum, on a band around the hips, designed specifically for guys after testicular operations. Well, GBGB has taken this traditional medical gear and taken it to a whole new sexy, pervy and stylish level. Not only do you get a jockstrap (or pouch) that treats your balls just right, but it also puts your dick out on display and as an added bonus - gets you bulging to perfection when you wear it under your favorite pair of jeans or light fabric shorts.

This is the GBGB Balzy Suspensory Jockstrap version but it's also available in a (strapless pouch.

Here's the details

The main feature of this suspensory jockstrap is of course the pouch that cradles your balls. It's made from the same ultra-soft ribbed knit fabric as GBGB's sports jockstraps - a fabric that feels amazing with a natural stretch due to the ribbing.The pouch is suspended from the waistband with reinforced canvas strips on each side leaving a space for your dick to hang out freely.

Includes a one inch-wide elastic waistband that keep the pouch supported and one inch-wide elastic leg straps to give the pouch even more support with the added bonus of the straps framing your ass to perfection.

Be sure to also check out the GBGB Balzy Suspensory Pouch with a sheer see-through ball pouch.
$20.00 USD
now only $14.00 USD
* this item is not eligible for further discount
* this item is on clearance and won't be restocked.
YOU MAY ALSO LIKE THESE ITEMS: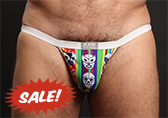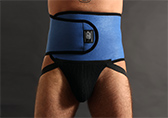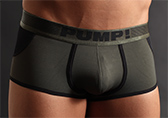 color:
Military-green and Black