Raw Studio Comet Jockstrap - Black/Silver

Raw Studio Comet Jockstrap
Color:

Black/Silver


Product#:

35293


Manufacturer#:

RBSJ


Material:

67% Polyester 33% Polyurethane

Embrace the dark side with Raw Studio's new collection of jockstraps and strapless pouches called Black Ops. Made with leather and some of the slickest modern-day fabrics with unique detailing all designed to show off your full potential. It's a collection that's as much fetish as it is fashion and perfect for your next Black Party, New Years Eve Bash or other Black Tie Event.

The Raw Studio Comet X-Jockstrap is another unique jock design with a streamlined contoured pouch made with a slick outer rubberized polyurethane with a soft poly backing which feels great against your boys. The silver center stripe adds a bit of bling while drawing all eyes to that bulge of yours.

The comfort elastic waistband is one-and-three-quarter inches wide in black with a single white sports stripe running horizontally through it. With a unique and sexy leg strap treatment where they begin at the pouch and travel around back and reattach to the base of the pouch. It's phenomenal looking from front, side and back.

Be sure to pick up the matching Raw Studio Cody Harness (sold separately) as seen in our photos to complete the look

Keep in mind, Raw Studio designs are not some mass-manufactured production, they're all hand-crafted and some of the most unique, hard-to-find, well-made and not to mention, uber-sexy gear you will own.

$26.00 USD
now only $13.00 USD
* this item is not eligible for further discount

YOU MAY ALSO LIKE THESE ITEMS: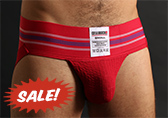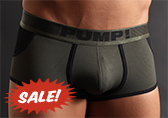 color:
Military-green and Black