Raw Studio Invader Strapless Mesh Sock - Invader

Raw Studio Invader Strapless Mesh Sock
Color:

Invader


Product#:

35048


Manufacturer#:

RS-WAR4


Material:

90% Polyester 10% Lycra and PU Coating

Go ballistic with Raw Studio's latest limited edition fetish collection of edgy jockstraps, jock briefs and strapless socks called simply WAR in serious black using some of the most authentic looking leather-like fabric in either solid or mesh. Team up this explosive collection with your favorite pair of combat boots and you're all set.

The Raw Studio Invader Strapless Sock defies gravity and will amaze your buddies with your torpedo-like bulge (which just happens to be a perforated leather-look mesh fabric and quite see-through!). The Sock is a simple yet ingenious design consisting of a one and half inch waistband and suspended pouch and nothing else. Other sock style underwear, while definitely sexy, aren't normally well designed - they tend to fall off with just a slight movement. Raw Studio, however, took on this design challenge head on (pun intended) and came out on first. With a super contoured pouch and a short cut elastic edging it, together they form a cup with a small opening to cradle your boys to perfection, the elastic sits high behind the balls. The best part is because there's no straps pulling the pouch down, you're able to hang naturally and swing free with an awesome bulge.

This is a seriously masculine collection from Raw Studio and as always, exclusive to us here at Jockstrap Central - be sure to collect them all before they're gone.
$22.00 USD
now only $13.20 USD
* this item is not eligible for further discount
SORRY, THIS ITEM IS OUT OF STOCK

YOU MAY ALSO LIKE THESE ITEMS: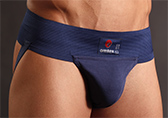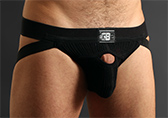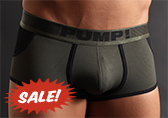 color:
Military-green and Black