Raw Studio Commander Mesh Jock Brief - Commander

Raw Studio Commander Mesh Jock Brief
Color:

Commander


Product#:

35045


Manufacturer#:

RS-WAR1


Material:

90% Polyester 10% Lycra and PU Coating

Go ballistic with Raw Studio's latest limited edition fetish collection of edgy jockstraps, jock briefs and strapless socks called simply WAR in serious black using some of the most authentic looking leather-like fabric in either solid or mesh. Team up this explosive collection with your favorite pair of combat boots and you're all set.

The Raw Studio Commander Jock Brief is a variation on Raw Studio's unique signature jock brief design with a few twists: The first is that the brief style front pouch is contoured and made of a unique perforated leather-look fabric which unlike leather actually has a welcome four-way stretch plus it's super-soft against your skin. The holes in the mesh are wide enough to give guys a good idea of the ammunition you're packing. A one inch wide vertical stripe runs down the center. Ingeniously, the mesh pouch wraps around a micro-elastic at the top providing stretch, fit and structure. Side panels in a solid leather-look fabric end abruptly meeting up with a masculine one and half inch wide comfort elastic running across the back - it not only looks great but it keeps everything in place. Finally, the solid panels also travel down while narrowing to meet up with the black elastic jock straps.

This is a seriously masculine collection from Raw Studio and as always, exclusive to us here at Jockstrap Central - be sure to collect them all before they're gone.

$40.00 USD
now only $34.00 USD
* this item is not eligible for further discount
SORRY, THIS ITEM IS OUT OF STOCK

YOU MAY ALSO LIKE THESE ITEMS: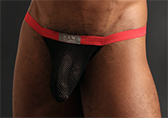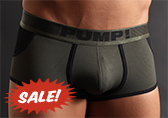 color:
Military-green and Black