Raw Studio Recruit Jockstrap - Recruit Jockstrap

Raw Studio Recruit Jockstrap
Color:

Recruit Jockstrap


Product#:

35039


Manufacturer#:

RW-MIL9


Material:

58% Polyester 42% Polyamide

Exclusive to Jockstrap Central!

Part of Raw Studio's new Military Collection. It's a collection of military inspired fetish wear featuring their signature army-green leather-look pvc fabric . As with all Raw Studio, this is hand-crafted in Canada with exceptional quality and meticulous attention to detail.

The Recruit Jockstrap features a contoured pouch in a distressed leather-look pvc fabric with a textured metallic olve-gold stripe down the front. The pouch is set off with black piping edging the jock. The contouring along with the piping ensures the perfect fit. Even better is the fabric has an ultra-soft backing which feels great against your junk.

With a masculine one and a quarter inch waistband and two quarter inch leg straps in comfort elastic to give you the fit and support you need.

Perfect for your next fetish event, military ball, club night, go-go boy gig or pride parade.
$29.00 USD
now only $24.65 USD
* this item is not eligible for further discount
SORRY, THIS ITEM IS OUT OF STOCK

YOU MAY ALSO LIKE THESE ITEMS: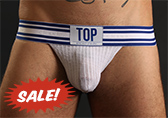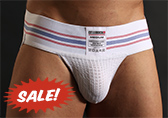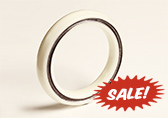 color:
Charge-n-Glow UltraShock