Raw Studio Baller Ball Lifter - Black Shine

Raw Studio Baller Ball Lifter
Color:

Black Shine


Product#:

35014


Manufacturer#:

RW-BA01


Material:

20% Polymide 80% Elastine

Exclusive to Jockstrap Central, Toronto designer Raw Studio is back with seven new, totally unique, undeniably sexy and totally outrageous new designs. We're calling it the second coming.

Most ball lifters are pretty utilitarian but not this one. Sure, Raw Studio's Baller ball lifter does it's job by getting your boys riding high and pushed out for maximum bulging but it's also loaded with style: A two-toned comfort elastic is not only the waistband but also what scoops down around and under your balls. With a black shine fabric panel at top of the "pouch" to set it all off. This is one good looking piece of gear that bridges the gap between ball-lifter and display suit.

As mentioned, the waistband (and scoop that runs under the balls) is a one and quarter inch high quality, comfort elastic.

As with all ball lifters, this is ideal for wearing under light fabric shorts or pants to ensure a great bulge, but with all the stylish elements, this looks great on it's own.
$14.00 USD
now only $11.90 USD
* this item is not eligible for further discount
SORRY, THIS ITEM IS OUT OF STOCK
YOU MAY ALSO LIKE THESE ITEMS: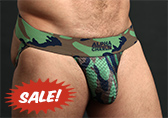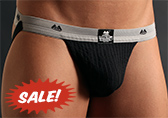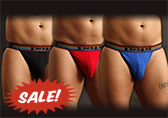 color:
pride (black/red/blue)