CellBlock 13 Ward13 Jockstrap - White

CellBlock 13 Ward13 Jockstrap
Color:

White


Product#:

33189


Manufacturer#:

CBU106


Material:

Cotton, Polymide, Spandex

When you gear up in Cellblock 13 latest Ward13 jockstraps and jock briefs, then we may as well just call you jail bait. With a pouch that showcases everything you've got up front and those legs straps framing your hot bubble butt, how could those horny inmates resist.

On first inspection, you'd think this was a traditional swimmer jockstrap with a designer upgrade, and you'd be almost correct. With a narrow one inch wide waistband and what looks to be a woven pouch it's an easy assumption to make, but the pouch is actually a solid fabric made out of a unique, stretchy and super-soft polyamide (a special polyester) and spandex fabric with a light ribbing. It is also part of CB13 Ward13 Seamless Collection and the result is a pouch that cradles your package, caressing and showing off every part of your bulge and treating it the way it deserves to be treated. Where it lacks in support it makes up for comfort tenfold. It's almost sheer and it's insanely awesome.

The waistband, as mentioned is one inch wide and made with Cellblock 13's heavy duty comfort elastic in grey and black horizontal strpe with repeating Cellblock 13 woven into the band. And in case you don't know about Cellblock 13's incredible attention to detail, they've cut the elastic so the repeating logos are always centered up front and in back and never cut off (like most similar waistbands from other designers). Finishing off the waistband is an embroidered patch incorporated the Cellblock 13 logo and the words "WARD13 REGULATION GEAR". In the back, find sturdy yet comfortable black elastic leg straps.

With Ward 13, Cellblock 13 proves once again why they are at the top of their game when it comes to designing masculine and iconic sports and fetish inspired gear.

$24.00 USD
now only $20.40 USD
* this item is not eligible for further discount
SORRY, THIS ITEM IS OUT OF STOCK
YOU MAY ALSO LIKE THESE ITEMS: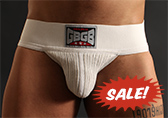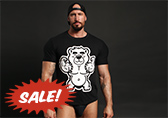 color:
Black (Muscle Bear)