CellBlock 13 Cyber X-treme Neoprene Harness - Red

CellBlock 13 Cyber X-treme Neoprene Harness
Color:

Red


Product#:

33171


Manufacturer#:

CBS096


Material:

70% Nylon, 20% Elastane, 10% Neoprene

Gear up! Cyber X-treme is here and it's the pinnacle of future fetish wear. It's an evolved version of Cellblock 13's best selling X-treme Hybrid Gear (now discontinued). Cyber is available in this Neoprene Harness, a Jockstrap and Fetish Short all made with a slick textured black rubber, a military meets Tron honeycomb camo with contrasting highlights in red.

This is one versatile harness: it's a stand alone harness with straps that run down your chest to attach to included swivel snap hooks. You can either attach them to the matching Cellblock 13 Cyber X-treme Jockstrap or Cellblock 13 Cyber X-treme Fetish Short, you can hook them up to any other CB13 Jock or short with D rings or you can hook them up to the belt loops of your favorite pair of jeans or shorts.

The perfect fit: Between the stretch of the tough but smooth and stretchy neoprene rubber straps and the adjustable snap system to increase or decrease the length there will be no sloppy straps here.

The front has large metal D rings at your shoulders. Wide neoprene straps run from the D rings down to meet more metal rings in front of your arm pits. More straps run from the armpits down the front ending in black metal swivel clips. The back piece consists of panels in black neoprene and honeycomb camo with detailing in red. The sides travel under your armpits and finally attach to the two front armpit rings. The works is edged with contrasting piping in blue.

The base is black neoprene with camo panels and contrasting piping in red.
A series of three snaps allow adjustment of the strap length.
Includes two swivel snap hooks to attach to other Cyber X-treme gear, any CB13 gear with D rings or belt loops.
All hardware (rings and clips) is made with heavy duty black metal.




Please note:

Harness does not come with the jockstrap or short as seen in some of these photos. They are sold separately.

$67.00 USD
now only $56.95 USD
* this item is not eligible for further discount
SORRY, THIS ITEM IS OUT OF STOCK

YOU MAY ALSO LIKE THESE ITEMS: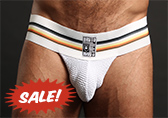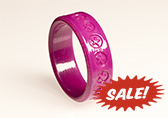 color:
Reflex Violaceous Hardstar