CellBlock 13 Singlet Jock - Red

CellBlock 13 Singlet Jock
Color:

Red


Product#:

33009


Manufacturer#:

7219


Material:

80% Nylon, 20% Spandex

Q. What's hotter than a guy in a wrestling singlet?
A. A guy in a wrestling singlet with the ass cut out of it.

These wrestlers-with-a-twist are made of super high-quality nylon and spandex that's tight enough to cling to your body yet stretchy enough to perfectly put your package on display (isn't that the whole purpose of a singlet?)

Of course, CellBlock 13 improves on this already phenomenal piece of kit by cutting out a convenient hole from the backside for double the pleasure.

Whether you are shoulders to the mat with your crotch thrust to the heavens or you are face down and your ass up in the air, this brings a hole new meaning to this spectator sport.

Sporty and fashion details include a sexy scoop neck down to your pecs and sides open all the way down to your waist. With a solid color body edged with contrasting piping and black and white racing stripes down the side. Finally, the statement making CellBlock 13 logo runs vertically down the left leg.

Throw down the mat (grease is optional) grab your partner and pull out a couple CellBlock 13 Singlet Jocks for some real wrasslin' fun. Just remember: winner or loser, you both win.



SIZING ADVISORY!


Like most singlets, they are very forgiving as they stretch big time. Sizing is more a personal preference and you should consider not only waist size, but weight and height.We have given you a sizing guideline below based on your weight. CellBlock gives their recommended sizing by waist size: (small: 30 inch) (medium: 32 inch) (large: 34 inch) (xlarge: 36 inch) although the xlarge could accommodate someone much larger than a 36 inch waist and comfortably too. Just remember, singlets are supposed to be tight, so if you're in doubt, it's probably better to go down a size than up a size.
$50.00 USD
now only $42.50 USD
* this item is not eligible for further discount
SORRY, THIS ITEM IS OUT OF STOCK
YOU MAY ALSO LIKE THESE ITEMS: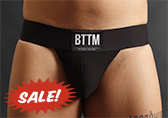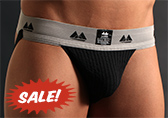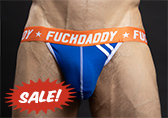 color:
Daddy (orange/blue)