Full Kit Gear Swim Jock - Gold

Color:

Gold


Product#:

25025


Manufacturer#:

FKSJ02


Material:

70% Polyester 15% Cotton 15% Rubber

Another essential jock from Full Kit Gear, this time it's a no-nonsense classic styled sports swimmer jockstrap not only providing the support you need but doing so in comfort with a unique knit pouch that's soft right out of the package.

The Full Kit Gear Swimmer Jockstrap has all the comfort and support you need, but with a classic design and masculine edge. Styled after the traditional classic sports jocks with their woven pouches except this one is SOFT right out of the box with a ribbed knit which has the flexibility to cradle your manhood. It's super comfortable and not to worry, If things should pop up, the nature of the knit and the hint of added rubber to the fabric contents allow for expansion. The contrasting piping framing the pouch not only adds visual appeal but also draws the eye to your package - always a good thing! The Full Kit Gear Swim Jockstrap includes a one inch plush, comfort stretch waist band that's woven and embossed with a subtle but recognizable FK logo.

Full Kit also has your backside covered (well not really) with one inch comfort elastic leg straps that keep your assets in check as any jockstrap should. But that's not all, a special stitching technique just below the pouch prevents the dreaded twisting of the leg straps you get from many pedestrian jocks.

Comfortable for the gym and every day wear but perfect enough for your next fetish party.

$18.00 USD
now only $9.00 USD
* this item is not eligible for further discount
* this item is on clearance and won't be restocked.
SORRY, THIS ITEM IS OUT OF STOCK

YOU MAY ALSO LIKE THESE ITEMS: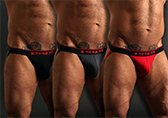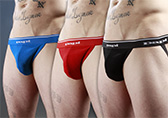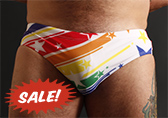 color:
Pride Star (rainbow)