PPU XXXPosure Jockstrap - Black

Color:

Black


Product#:

24018


Manufacturer#:

1220


Material:

54% Nylon 27% Polyester 19% Spandex

PPU is here with another unique and totally outrageous display jock following in the footsteps of their hugely popular Out Front Jock.

The concept is simple: a show off everything you've got jockstrap made with one single piece of PPU's super comfortable plushed elastic which travels around your waist from front to back then swoops down criss-crossing the top of your shaft then splitting each side of your balls, cradling them on the way, and traveling between your legs and becoming the straps of a jock. Sure, it may be simple, but it's really different and totally hot.

The XXXPosure Jock is ingenious, surprisingly feels great (as you can see from some of the shots of our model Adam where he just couldn't keep his monster down) and it does the perfect job of framing and complimenting your manhood.

For the technical details: The straps are 1 1/4 inches wide and quarter inch eyelets reinforce the joins as well as providing a delicious design detail.

Don't forget to check out the PPU XXX Strapped - it's similar to the XXPosure Jock except it's a full body harness.
$20.00 USD
now only $8.00 USD
* this item is not eligible for further discount
SORRY, THIS ITEM IS OUT OF STOCK
YOU MAY ALSO LIKE THESE ITEMS: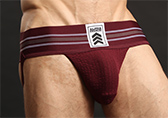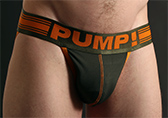 color:
Military-green and Orange