Addicted Fetish Zipper Suspenders - Blue

Addicted Fetish Zipper Suspenders
Color:

Blue


Product#:

22018


Manufacturer#:

ADF89


Material:

90% Polyester 10% Spandex

We're expanding our hugely popular Addicted Fetish line with these all new suspenders / harness to hit home your AD Fetish look. With a unique and stylish zipper detailing in all your favorite fetish colors.

Hook them up to the belt loops of your favorite pair of jeans or fetish shorts or to any D ring enabled Addicted Fetish jocks or underwear like the Addicted Fetish Mesh Bottomless Trunk or Addicted Fetish Mesh Bottomless Brief.

The concept may be simple but the effect sure makes an impact: In front, plushed elastic straps edged with contrasting zipper halves in your favorite fetish colors travel from the caribaner style hooks, up your body and over your shoulder ending up at a triangular neoprene panel sitting right between your shoulder blades in back. With an iconic embossed rubber AD patch right in the middle. Another elastic strap continues down your back ending at another clip. These need to be worn tight to keep them flat against your chest. Use the buckle in the back to acheive a perfect fit.

Metal caribaner style hooks allow you to hook up the suspenders either to your belt loops or any d-ring enhanced jockstrap or underwear.

The suspenders are one size but because of the elastic and fully adjustable back buckle they should fit everyone, no matter how short or tall.

Just for reference, our model Simon is 5' 11". He's wearing the suspenders with both the Addicted Fetish Mesh Bottomless Trunk and Addicted Fetish Mesh Bottomless Brief.
$79.00 USD
now only $39.50 USD
* this item is not eligible for further discount
SORRY, THIS ITEM IS OUT OF STOCK

YOU MAY ALSO LIKE THESE ITEMS: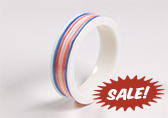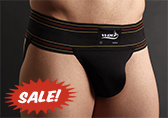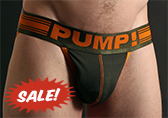 color:
Miliatry-green and Orange