Male Power Warrior Thong with Harness - Black

Male Power Warrior Thong with Harness
Color:

Black


Product#:

19026


Manufacturer#:

PAK139


Material:

85% Nylon / 15% Spandex

Harness your inner Spartacus with Male Power's latest fun studded fetish collection giving you that hot leather look without the huge cost. There's three in total all featuring a pouched thong bottom with 3 unique harness attachments. Be sure to collect them all.

This model is called the Warrior and features a studded bottom pouch in a stretch Nylon and Spandex with two upper rings that attach to the waistband. Following the waistband around the back you'll find another center ring that joins the center thong strap.

The harness is attached to the upper sides of the front pouch running up the torso, crossing to form an x with a center metal ring and finally travelling up the rest of the torso and over the shoulders. On the back, the harness runs from the shoulders down to a center ring. A solitary strap then runs from the center ring down to the waistband.

Be sure to check out Male Power's other two designs: The Gladiator and The Tormentor.




*** Our supplier is currently out of stock of small-medium, be sure to check out the two other styles until this comes back into stock.
YOU MAY ALSO LIKE THESE ITEMS: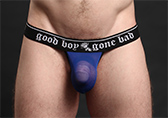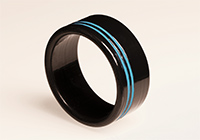 color:
Berry Bomb Striper