Pistol Pete Millennium Jock Brief - Red


Pistol Pete Millennium Jock Brief



Red
- 94% Nylon 6% Spandex

Made in the USA!

Not only a jockstrap for now but for the entire Millennium - Pistol Pete's latest jock brief has got it all going on. It's a sexy mesh brief borrowing the best feature of a jockstrap with it's open rear design.

Typical of a jock brief, it's got a wide brief style front made of a subtly see-through mesh that becomes more see-through with your bulge pushing up against the fabric stretching those ventilation holes just large enough for a hint of what's lies beneath. Trust us, those close by will insist on closer inspection. The slightly stretchy fabric and contoured pouch ensure comfort and fit.

As for the back, the mesh fabric continues and like most jock briefs, has a jockstrap like element from behind. Think of it as a regular brief back with a hole cut out framing your ass to perfection.

The Millennium Jock has black elastic edging for an extra dash of style and ensures fit and shape retention. Lastly, this jock brief has a 1.5 inch wide black ultra-soft waistband with subtle embossed repeating Pistol Pete logo.


22.00 USD
now only
$8.80 USD

* this item is not eligible for further discount
YOU MAY ALSO LIKE THESE ITEMS: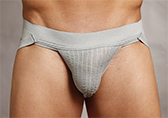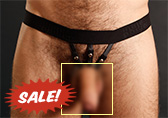 color:
Strappy Ring Thong