Papi Stretch Jockstrap 2 Pack - Blue and Red

Papi Stretch Jockstrap 2 Pack
Color:

Blue and Red


Product#:

13020


Manufacturer#:

980910-986


Material:

95% Cotton 5% Spandex

The Stretch Jock is not only stylish but so comfortable you won't want to wear anything else. Luckily Papi knew this so they bundled them in twos (one in black, and the other blue) so you have one to wear while the other is in the wash.

Here's the details:

The pouch is contoured and constructed of two panels with a center seam. It's almost all cotton with a hint of spandex for fit and an extra touch of soft comfort. It's edged with a small piping for added support.

The 1 1/4 inch comfort waistband is the perfect blend of sturdiness and stretch with a high thread-count weave in black and silver forming a stylish stripe running around the waistband with a front centered Papi logo.

The 3/4 inch soft elastic legstraps provide the support to keep things in place yet stretchy enough to prevent the digging in that many jockstrap straps cause.

Once again, this is a 2 pack. You get two stylish and comfortable Papi jockstraps in two colors for one great price.
SORRY, THIS ITEM IS OUT OF STOCK
YOU MAY ALSO LIKE THESE ITEMS: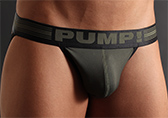 color:
Military-green and Black