Jack Adams Sport Tek Jockstrap - Red
click all photos for larger versions!

Jack Adams Sport Tek Jockstrap
Color:

Red


Product#:

11047


Manufacturer#:

401-212


Material:

95% Cotton 5% Elastane.

Jack Adams is back with a stylish and unique jockstrap. Made with an innovative cotton punch-hole fabric that's engineered for comfort, wicks moisture and provides welcome air-conditioning when it's steaming hot outside. Even better: The pouch is very generous, it's contoured and the fabric has a four-way stretch so this jock can handle even those big guys with big packages. Need proof, look no further than our model Simon, you can see what he's packing in some of our recent additions to Jockstrap Central.

Here's the details:

As mentioned, a very generously cut contoured pouch in a sports mesh edged with white piping for a sporty and stylish look. A unique one and one quarter inch wide black and white striped elastic is not only the waistband but also the leg straps. The thicker leg straps and the easy-stretch prevent the waistband and leg-straps from cutting in causing love handles or indentations below the ass cheeks - always a good thing!

Finally, a Jack Adams label sits front and center on the waistband along with the small Jack Adams @ logo on a tab suspended from the waistband on one side.

If you're looking for an affordable, top drawer, wear all day sporty looking fashion jock, one that won't cramp your style (or your junk) then this is it.

$25.00 USD
now only $18.75 USD
* this item is not eligible for further discount


YOU MAY ALSO LIKE THESE ITEMS: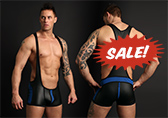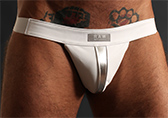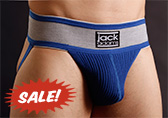 color:
Royal-blue and Grey