PUMP! Raven Jockstrap - Raven

Color:

Raven


Product#:

09007


Manufacturer#:

15006-D


Material:

94% Cotton 6% Spandex

Are you ready to get PUMPed? Whether it's at the gym, the office, lounging at home or on a hot date you're going to love wearing this new range of jockstraps from Canadian designer PUMP!. With their bold color combinations and striking design elements, these jocks are going to get you noticed. Don't think it's all style and no substance, not only are they good looking but they're ultra-comfortable: They have super-plushed wide elasticated waistbands, some of the softest leg straps we've ever encountered and are completed with a luxury cotton pouch.

Here's the details:

The pouch is a brushed black cotton with a hint of spandex for stretch and fit. The contoured pouch is accented with purple piping and purple center stitching define the bulge. Includes a full two inch wide plushed waistband with woven and embossed large front and center PUMP! logo, a smaller off-center back PUMP! logo and stylish contrasting racing stripes in black purple and white. Finally, the black leg straps are one inch wide and as we mentioned, incredibly soft.

These are low rise jocks with a streamlined design. There's eight awesome designs - collect them all.
Other Colors Available:
White
$29.00 USD
now only $14.50 USD
* this item is not eligible for further discount
* this item is on clearance and won't be restocked.
YOU MAY ALSO LIKE THESE ITEMS: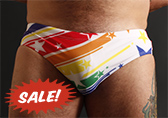 color:
Pride Star (rainbow)