Nasty Pig Xposed Jockstrap - Red and Blue

Nasty Pig Xposed Jockstrap
Color:

Red and Blue


Product#:

07160


Manufacturer#:

5585


Material:

94% Modal 6% Spandex

Double Xposure and double the fun - whether it's the bulge-clinging modal combined with a sexy athletic mesh or the pig logo front and center announcing your true intentions, Xposed lives up to it's namesake. In fact, Nasty Pig is calling their latest jocks and briefs their best designs yet and considering their track record, that's a pretty big boast - and we think they may be right!

The pouch: outside has a single sports stripe of modal down the center with contrasting outer panels of a super-soft athletic mesh. An inner wall is pure modal that cradles and caresses your junk.

The waistband: a super-relaxed one-and-a-half inch wide plushed elastic complete with horizontal sports striping wrapping all around from front to back with the iconic Nasty Pig pig logo front and center. Finally, two three-quarter inch wide leg straps finish it all off.

With gear this hot, it only made sense to bring back our hyper-masculine MMA fighter Simon to show it all off - and show it all off he does. There may not be explicit nudity, but with Xposed, there's no hiding what he's packing. In case you're wondering, this tank of a guy is 5' 10" and wore size xlarge.
$32.00 USD
now only $19.20 USD
* this item is not eligible for further discount
SORRY, THIS ITEM IS OUT OF STOCK
YOU MAY ALSO LIKE THESE ITEMS: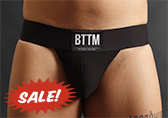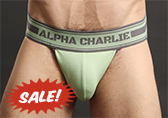 color:
Mint-green and Grey