Nasty Pig Speed Demon Jockstrap - Grey

Nasty Pig Speed Demon Jockstrap
Color:

Grey


Product#:

07141


Manufacturer#:

5568


Material:

94% Modal 6% Spandex

Our first Nasty Pig Jockstrap out the door for fall 2017. The Speed Demon Jockstrap is the epitome of sports fetish meets fashion that fits in anywhere day or night. The look is sport and the fit and feel is fashion with a pouch made of Modal, a fabric so soft you'll never want to take it off. And if there was any doubt of your true intentions, a big bold NASTY PIG on the waistband sets things straight.

As mentioned, the pouch is made of lightweight breathable modal to keep your engine cool with just the right amount of stretch to accommodate your stick shift. With a solid color pouch in medium-grey with a unique two-tone piping in light-grey and white.

A one and half inch comfort waistband includes horizontal sports striping in medium-grey, white and light-grey with an italicized NASTY PIG front and center. Even more awesome are two more stripes starting at the top of the Y and bottom of the P that speed in opposite directions racing around your body.

Finally, two three-quarter inch comfort leg straps in both greys and white stripes finish it all off.

A word about Modal: modal is simply a modern natural fabric made from the beech tree that's durable and washable, it feels incredible against your boys, very similar to brushed silk but breathes like cotton.

For all you collectors, this is classic Nasty Pig gear and up there with our favorites and long gone Nasty Pig Sport Jockstrap and Nasty Pig Takedown Jockstrap. Be sure you don't miss out on this one, as with any NP gear, they're never around forever.

Be sure to pick up the matching Nasty Pig Speed Demon Socks.
$29.00 USD
now only $17.40 USD
* this item is not eligible for further discount
SORRY, THIS ITEM IS OUT OF STOCK
YOU MAY ALSO LIKE THESE ITEMS: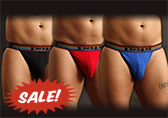 color:
pride (black/red/blue)