Nasty Pig Imprint Brief Underwear - White

Nasty Pig Imprint Brief Underwear
Color:

White


Product#:

07003


Manufacturer#:

5530


Material:

95% Cotton 5% Spandex

Nasty Pig is back with Imprint, their first collection for 2015 and it's a stripped down back to basics collection of low rise jockstraps and briefs. This is pure Nasty Pig and is sure to become the new classic. As Nasty Pig says, black and white never goes out of style, it's a classic look that always feels modern and it goes with everything you own. A bold and sexy design guaranteed to leave a high impact impression.

It's pretty obvious that this is one hot looking low rise brief, but beyond style you'll find a snug fitting contoured pouch which is double walled for extra durability and made with Nasty Pig's signature ribbed cotton with a hint of spandex for comfort, fit and stretch. Edged with black piping for visual impact and pouch structure. The one and a quarter inch wide waistband is plushed for comfort with just the right amount of elasticity for comfort and support with a big bold NASTY PIG logo front and center, plus one on each side - and because it's Nasty Pig and they think of everything the waistband is finished with a racing stripe at the back so it looks great from front to side to back. Finally, three quarter inch plushed elastic leg straps ensure the whole jock stays in place and gives you the support you need.

Be sure to snag a matching pair of white Baller Socks or a contrasting pair of black Baller Socks for a complete Nasty Pig look.
$24.95 USD
now only $14.97 USD
* this item is not eligible for further discount
* this item is on clearance and won't be restocked.
SORRY, THIS ITEM IS OUT OF STOCK

YOU MAY ALSO LIKE THESE ITEMS: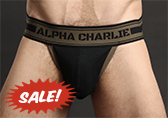 color:
Black and Olive-green