Locker Gear Massive Rude 2-Way Zipper Shorts - Blue

Locker Gear Massive Rude 2-Way Zipper Shorts
Color:

Blue


Product#:

02209


Manufacturer#:

LK1060


Material:

Nylon, Polyester, Cotton, Nylon

Get down and dirty with our all new Locker Gear. This new Spanish brand is sports fetish at it's most refined and designed with the exhibitionist and slut in mind. We're launching with a jockstrap and two styles of slutty shorts all with full-on exposing features. Complete the look with the matching socks.

Here's the details:

It doesn't get much more slutty than this. The Locker Jock Massive Rude 2-Way Zipper Shorts are all about options. These hot shorts have a handy zipper running from front to back. You just have the all-important decision to make whether you're playing the role of top, bottom or you're the meat in the middle of a three-way sandwich. Who says you can't have it all. Either unzip the zipper in front exposing your boys, unzip the zipper in back exposing just your ass or unzip it all for full front and back exposure.

Made almost entirely of a slick, shiny and stretchy leather-look pvc material bonded to an ultra-soft inner layer (the part that rubs up against your skin). The side have two sports stripes in a stunning black micro-mesh with handy V-slits at the bottom for enhanced movement.

The waistband is elastic covered with the pvc fabric mentioned above with nice thick drawstrings to keep things secure.

Be sure to snag the matching Locker Gear Keep Them On Socks. Also check out the Locker Gear Watch It Hard Jockstrap and Locker Gear Watch It Hard Chaps Shorts.
$49.00 USD
now only $14.70 USD
* this item is not eligible for further discount
SORRY, THIS ITEM IS OUT OF STOCK
YOU MAY ALSO LIKE THESE ITEMS: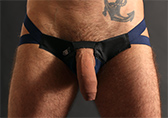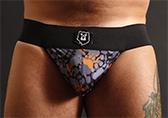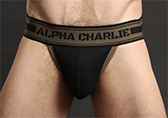 color:
Black and Olive-green