Pulse Stretch Mesh Country Jockstrap - Great Britain - Great Britain

Pulse Stretch Mesh Country Jockstrap - Great Britain
Color:

Great Britain


Product#:

01015


Manufacturer#:

PSJ-UK


Material:

95% Nylon 5% Lycra

**Product Line discontinued, if you don't see your size available, we don't have it and it wont be back, sorry.

Pulse has another hit on their hands. First was the Stretch Mesh jockstraps, then the Sheer Wrestling Singlets (which we can never keep in stock) and now a combination of those two - the Stretch Mesh Country Jockstraps.

Made with Pulse's remarkable four way stretch mesh fabric and sublimation printed with some of our favorite country's flags, these jockstraps are unbelievably sexy, totally erotic and completely stylish. Upon first glance, you'll probably wonder how that skimpy little pouch is going to hold your junk but not to worry, it not only molds to fit what you've got but when you get excited from wearing this hot jockstraps the fabric s-t-r-e-t-c-h-e-s to accommodate you rock hard (need proof? just check out our model Jack for a demonstration!) Even hotter is that the mesh is fully see-through - as is all the Pulse gear we carry.

Of course it's wasn't enough for Pulse to just print the mesh fabric, they also styled the waistband: It's a heavy-duty one inch wide white comfort elastic edged in blue with the country printed front and center and includes three quarter inch sturdy comfort elastic leg straps in matching blue and white.

Don a country's jockstrap but be sure to stand at attention to show your true patriotism - everyone will be looking.

One word of warning: Pulse gear is very popular, always sells out and usually takes up to 6 months to restock so get them while you can.
$23.95 USD
now only $16.77 USD
* this item is not eligible for further discount
SORRY, THIS ITEM IS OUT OF STOCK
YOU MAY ALSO LIKE THESE ITEMS: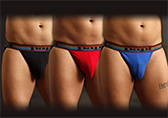 color:
pride (black/red/blue)