HARD CUP JOCKSTRAP
The hard cup jockstrap, also known as a hard cup supporter is a jockstrap with a hard shell to be inserted into the pouch of the jock. If you need true protection from impact sports then you'll need a hard cup supporter from Bike and Flarico, companies you can trust with the protection of your boys. Both Bike and Flarico have been providing support and protection since the 1890s.

The cup is generally made of molded plastic to allow room for your genitals and to protect them from impact during sports like baseball and hockey. New technology is allowing the cup to be made of a reinforced webbing allowing your genitals to breathe.

The hard cup jockstrap was invented in Canada in 1927.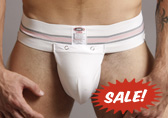 sizes available: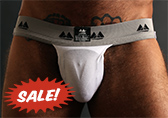 sizes available: