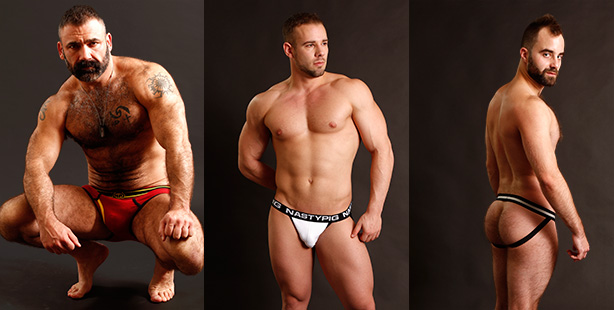 MODEL FOR JOCKSTRAP CENTRAL
If you live near or are visiting Toronto and would like to model for us, then let us know. The job pays cash plus youíll end up with some of the product you model. Our photoshoots are always fun yet professional.
Unfortunately, we donít shoot everyone, but as you can see from the models already on our site, we do shoot a variety of types of guys. We are looking for guys from ages 18 to 80, hairy or smooth with a great attitude. If you fit the bill, why not give it a shot. Hereís an idea of what we expect and what weíre looking for:
Great ass:
We need our models to have a good firm ass that looks great in a jockstrap. A jockstrap frames the butt and it plays a prominent part in our photoshoots.
Package:
Weíve discovered that having a big dick isnít everything. What we really need is a good complete package and itís really the balls that fill the pouch the way we like, but even that isnít a requirement. Often we will require the model to either wear a cockring (which we provide) or fluff themselves -it's the nature of the business. With that in mind though, no one will ever touch you other than to snip a loose thread or adjust a strap.
Exhibitionist:
We need a guy who is bit of a exhibitionist (arenít all models?) Jockstraps are by nature erotic, and even shooting sports jockstraps, your ass is exposed and we're not afraid to show it. Although we do carry regular underwear you can be guaranteed to be asked to model some jockstraps, afterall we are Jockstrap Central.
If you're shy about getting naked then this probably isn't the right job for you. Even if we're not shooting see-through or cock enhancing jockstraps and underwear, models will have to change in front of the camera (you can turn your back and we'll never take a photo of you naked, unless you want us to.) Leaving the room slows down the photoshoot and wastes everyone's time.
We're not a porn site and we don't show gratuitous nudity, but we're also not afraid to demonstrate the nature of a jockstrap. If the jockstrap is see through, then we show it as see-through and if it's a cock enhancing suit then we show how that works too. However, we tailor each photoshot to a modelís comfort level so don't be put off. We break our product down to three levels: conservative (classic jockstraps with your ass exposed), mesh jockstraps (part genital exposure) and total erotic (often full genital exposure.) Be sure to let us know what your comfort level so we never ask you to model something you don't want to.


So, if that hasn't scared you off then why don't you give it a try...
Email us and let us know a bit about yourselves and if you have them, send a few recent photos - face and body shots are best. If you have any questions, please don't hesitate to ask...