McKillop XXL-Bulge Envy Sport Jock - White (mesh)
click all photos for larger versions!

McKillop XXL-Bulge Envy Sport Jock
Color:

White (mesh)


Product#:

38016


Manufacturer#:

BHME-WH2-P6


Material:

Nylon 90% Lycra 10%

When you're that big they call you Mister, especially wearing our all new McKillop XXL-Bulge Envy Sport Jock.

-------------------------------

Plase Note: This is a custom large pouched jockstrap McKillop made especially for us. After some of our VERY well endowed customers found they couldn't squeeze their large dicks and huge balls into the McKillop Max Bulge Jockstraps, we asked McKillop to make a bulge-centric jockstrap for the big boys. So, be warned: if you're not overly large down there, then this jock's pouch isn't going to work for you.

-------------------------------

Quite simply, XXL-Bulge Envy is a mesh jock brief that's all about the bulge. It has a very large, ergonomically designed pouch that's cut short at the base of the 3D pouch to help lift your boys up and out. Despite that villain called gravity trying it's best to keep your hulking monster down, Envy puts up a pretty damn good fight against it. Look no further than our model Caleb King for proof it works: with his rather big set of balls and girthy shaft they still manage to stick out from his body.

Both front and back is made from a very sheer and totally see-through mesh. The brief style front has a pouch that's super-contoured and as mentioned, cut short under the balls for the bulging effect. The three-quarter inch elastic that edge the leg openings add support and improve fit. In the back: the ass is cut out and the hole framing your butt is edged in a quarter-inch wide elastic.

Finally, the one and half inch wide waistband is plushed with a subtle MCKILLOP logo front and center.

Again - only consider this jock if you're very well endowed!

YOU MAY ALSO LIKE THESE ITEMS: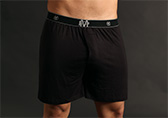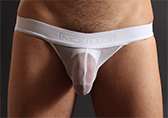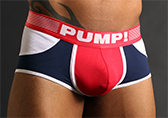 color:
Red Navy-blue and White