Maskulo Open Back Wrestling Singlet w/ Cod Piece - White and Black


Maskulo Open Back Wrestling Singlet w/ Cod Piece



White and Black
- 90% Polyester 10% Elastane

Exclusively available in North America at Jockstrap Central. Following the success of the original Maskulo Fetish Shorts and Football shorts, we're expanding the line with these ridiculously hot wrestling singlets.

Maskulo's latest creation, a full featured, totally hot sport fetish singlet with removable codpiece and easy access rear entry, is perfect for that next kink fueled wrestling session. Whether you're grappling, tackling, or getting ready to be pinned, Maskulo's edgy design is the sure fire way to get your body slammed… Inside or outside of the ring. Here's the details:

Made with a white super stretchy spandex (edged with black piping) that wears like a second skin. With shoulder straps that swoop dangerously down to the top of Maskulo's signature black padded detachable formed cod piece (pouch) giving you one massive bulge no matter what state you're in. Contrasting vertical racing stripes enhance the contours. Unsnap just a bit of the pouch for a tease or all the way for a full frontal assault. A suggestion: your partner's face makes for the perfect spot to keep that pouch safe while you're not wearing it. The bottom has two legs stopping short just above the knee with two sporty inner racing stripes in black.

Spin around and you'll find an open concept design - whether it's the exposed back created by the single narrow fabric running vertically down from the shoulders or the pièce de résistance: a convenient and welcome exposed ass.

As mentioned, the pouch snaps on (or off) and is joined both at the top and bottom leaving the sides open for easy partner access. For more access, undo the extra two leg joining snaps and the pouch to allow full freedom and full unencumbered access front and back.

Made with durable fabrics, double stitching and comes with a complete extra set of hardware (snaps). Quality all the way.

Sizing: Maskulo has unique sizing and is available in what they call extra small and run all the way up to a xxxl. Be sure to consult the recommended sizing from the size drop down box. Makulo's given sizing is based on waist size but as the spandex is super stretchy, they're very forgiving in both height and width. As a guide, our model Mick is 5' 11" with a 32" waist and wore a medium. Adrian, one of the owners of Jockstrap Central is 6' 0" with a 34" waist and also tried on the medium. While he would have preferred the large for a more comfortable fit around the waist the height was great and felt it would still comfortably stretch to accommodate someone 6' 2" or taller.


65.00 USD
now only
$48.75 USD

* this item is not eligible for further discount
YOU MAY ALSO LIKE THESE ITEMS: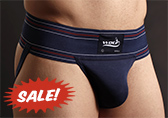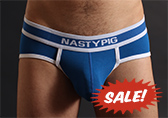 color:
Royal-blue and White