Raw Studio Drop C-ring Ball Lifter - Black and Silver

Raw Studio Drop C-ring Ball Lifter
Color:

Black and Silver


Product#:

35013


Manufacturer#:

RW-DC01


Material:

20% Polymide 80% Elastine

Exclusive to Jockstrap Central, Toronto designer Raw Studio is back with seven new, totally unique, undeniably sexy and totally outrageous new designs. We're calling it the second coming.

The concept is simple but the look is hot and the effect is awesome. It's a single piece of Raw Studio's signature one and a quarter inch two-toned comfort elastic that runs around your waist and drops down in the front to wrap around (and lift) your balls. Where the bands cross, it's stitched to ensure everything is in it's place. It not only looks great but it feels great lifting up and pushing out your package as any good ball lifter should.

As with all ball lifters, this is ideal for wearing under light fabric shorts or pants to ensure a great bulge, but with it's stylish design, this looks great on it's own.

Wear with confidence.
$14.00 USD
now only $11.90 USD
* this item is not eligible for further discount
SORRY, THIS ITEM IS OUT OF STOCK
YOU MAY ALSO LIKE THESE ITEMS: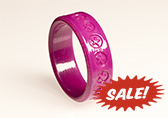 color:
Reflex Violaceous Hardstar