CellBlock 13 Arsenal Jockstrap with Jock Armour Cock Ring - Purple

CellBlock 13 Arsenal Jockstrap with Jock Armour Cock Ring
Color:

Purple


Product#:

33195


Manufacturer#:

CBU128


Material:

60% Polyester, 30% PU, 7% Nylon, 3% Spandex

Be prepared for anything. With the the all new Cellblock 13 Arsenal Gear consisting of a jockstrap, fetish trunk, harness and matching socks and the included snap-off pouches, cock grasping Jock Armour silicone cock rings and functional zipper in the rear of the shorts - you'll be ready for any action heading your way. It's all made with a slick perforated neoprene and highlights in your favorite fetish colors plus new for this collection - a stunning purple!

Here's the details:

Built upon a jockstrap frame with an included body hugging, cock gripping and detachable Jock Armour silicone cock ring. The flexible cock ring attaches to the frame via a series of fasteners. An outer pouch snaps on over the works - it's made with the crazy hot perforated black rubber with two vertical sports stripes in purple running down the center - all designed to draw all attention to that bulge of yours. Of course, if you're the attention whore we think you are, simply unsnap that pouch to exposed that engorged cock of yours.

Flip around to the back to find two super soft black one inch wide leg straps embossed with a repeating Cellblock 13 logo framing your ass.

The waistband: It's the masculine two inch wide waistband that you'd expect on your CB13 fetish jock, complete with sports striping and large state-your-business Cellblock 13 logo front and center all in black, purple and white with two included D rings to attach the matching Cellblock 13 Aresenal Harness (sold separately) or any other CB13 harness with clips.

The Cellblock 13 Aresenal Jockstrap is designed to be paired up with the Cellblock 13 Aresenal Harness or Cellblock 13 Apex Harness. Finish the Aresenal look with the Cellblock 13 Aresenal Socks. Also, don't forget to check out the Cellblock 13 Aresenal Fetish Trunk.


SORRY, THIS ITEM IS OUT OF STOCK
YOU MAY ALSO LIKE THESE ITEMS: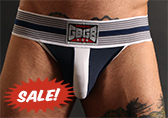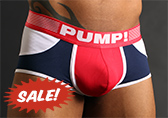 color:
Red Navy-blue and White