CellBlock 13 Prizefighter Jock Brief - Black / Blue


CellBlock 13 Prizefighter Jock Brief



Black / Blue
- 88% Polyester 12% Nylon

Built tough and made in the USA! CellBlock 13's Prizefighter Jock Brief takes the whole Jock Brief trend and adds an edgy twist that only CellBlock 13 can. Here's the details:

A sexy brief with partially see-through black stretch mesh fabric with contoured pouch edged in contrasting blue that's not only stylish, but ensures you're package is accentuated to the fullest. Legs openings are also slightly elasticated and edged in blue.

If that wasn't hot enough, flip the Prizefighter around
and you'll find a sexy mesh brief back except the ass has been cut out of it and that hole is edged in blue.... It's a knockout!

A thick masculine 2 inch wide waistband with woven black white and blue horizontal racing stripes and centered CellBlock 13 logo that just oozes style and quality.

To sum it up, a perfect blend of fashion and fetish that's just oozing of style with expert craftsmanship.


24.00 USD
now only
$20.40 USD

* this item is not eligible for further discount
YOU MAY ALSO LIKE THESE ITEMS: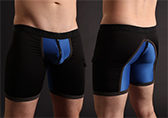 color:
Black and Royal-blue